Your kitchen and bathroom countertops probably get more wear and tear than any other feature in your home. Countertops and Cabinetry by Design have many different surface styles from which to choose. Our kitchen and bathroom visualizers can help you get an idea of what you may be looking for. Consider your lifestyle and let us help you pick your style and surface today!
What Things Should I Consider Prior to Choosing My
Kitchen or Bathroom Countertops?
Countertops play both a practical and aesthetic role in your kitchen or bath. Because countertops are very frequently used, they must be hardy enough to endure your everyday wear and tear while still looking great. If you are considering replacing your kitchen or bathroom countertops, there are several things to consider before you engage in the process. The type of countertop you choose can make a major difference in the overall look of your kitchen or bath, so it's extremely important your countertop replacement decision is carefully thought-out.
It is almost impossible to complete a kitchen or bath remodel without replacing the countertops. Initially, you will take measurements of your existing countertops and bring them with you when you meet with one of our designers. With the designer's assistance, you will determine which type of countertop you are interested in, whether granite, quartz, natural stone, or solid surface. The designer will be able to give you a price estimate, based on the measurements you provide. Solid surface tends to be the least expensive of these four types of countertop materials, with the others varying in price depending on the specific color you choose. Ultimately though, your budget and the look you want will govern your final choice of countertop material. 
You will also need to think about your current countertop material and how easily it can be replaced. Since laminate and solid-surface countertops screw into place, this makes them a bit easier to change out. Think about your current cabinets—if you are changing out a plastic laminate countertop for stone, you must ensure your floor and cabinets are able to support the additional weight. The plumbing in your kitchen or bath will also have an impact on your choice of countertop materials, as you may need to replace your sink and faucet as well.
If you are replacing your kitchen countertop, you are also likely replacing your backsplash, and you want the two to complement one another. If you have under-cabinet lighting, you will also have to consider how the lighting will look with a new countertop surface, particularly if that surface is a highly polished stone surface. The design team at Countertops and Cabinetry by Design can answer any questions you might have, helping you choose the best countertop for your overall design.
Specific Considerations When Choosing Kitchen or Bathroom Countertops?
Your budget will, of course, have an impact on the type of countertop surface you choose. Quartz and granite tend to vary widely in price, depending on the specific color, while other natural stone varieties, such a quartzite, tend to fall at the higher end of the range. Solid surface is usually the least expensive option, but you can find granite and quartz options to fit almost any budget.
As noted, there are a number of countertop options. Quartz mimics the look of stone, yet requires less maintenance. Stains are not usually a problem with quartz, nor is heat, and quartz usually comes in a variety of vibrant colors and patterns, many of which look like marble or granite. The edges and corners of quartz can potentially chip, requiring a professional to repair them.
Granite is one type of natural stone. Granite's biggest draw is that it is unique—no two slabs are alike. Rare colors in granite, as well as veining in the granite make some colors of granite more expensive. Granite is fairly resistant to heat, cuts, and scratches, with polished and matte finishes resisting most stains once it is properly sealed. Granite countertops do require periodic resealing, and if an edge or corner chips, it must be professionally repaired.
Quartzite, Soapstone, Limestone, and Marble are other natural stone materials. Like granite, each slab of natural stone is unique. Quartzite is harder than granite, but it is also more porous, which can make it more susceptible to staining if not properly sealed. While soapstone is not as common as granite, it is exemplary at resisting heat damage, and small scratches can be repaired with fine-grit sanding paper and an application of mineral oil. Limestone and marble are natural-looking stones which usually have no heavy veins or grain. Both limestone and marble tend to resist heat fairly well, although marble can be damaged when a very hot pan is placed on the surface.
Solid surface countertops are available in a variety of colors and patterns. Solid surface countertops create a seamless look because any joints necessary are virtually invisible. Solid surface countertops are resistant to stains, and if a small nick or scratch occurs, a professional installer can usually repair it. Even so, a cutting board should always be used with solid surface countertops. Additionally, solid surface countertops are less heat resistant, so you have to be careful not to place hot pots and pans directly on the countertop.
Granite and natural stone countertops must be sealed—and re-sealed approximately every six months to one year. Quartz and solid surface countertops tend to be more low-maintenance, but any of these materials will last for years to come.
The dimensions of your countertops will determine, in many cases, whether seams will be necessary. This will also be determined by the size of the slab material you choose; different colors of granite, quartz, and natural stone come in different size slabs, which impacts whether seams will be necessary. Solid surface countertops usually look seamless, due to the adhesive used to seam pieces together.
Your personal style and the décor of your kitchen or bath, along with your budget, will determine the material you choose for your countertops. Natural stone typically has a more delicate, graceful and elegant look, while solid surface countertops come in a wider variety of colors and patterns.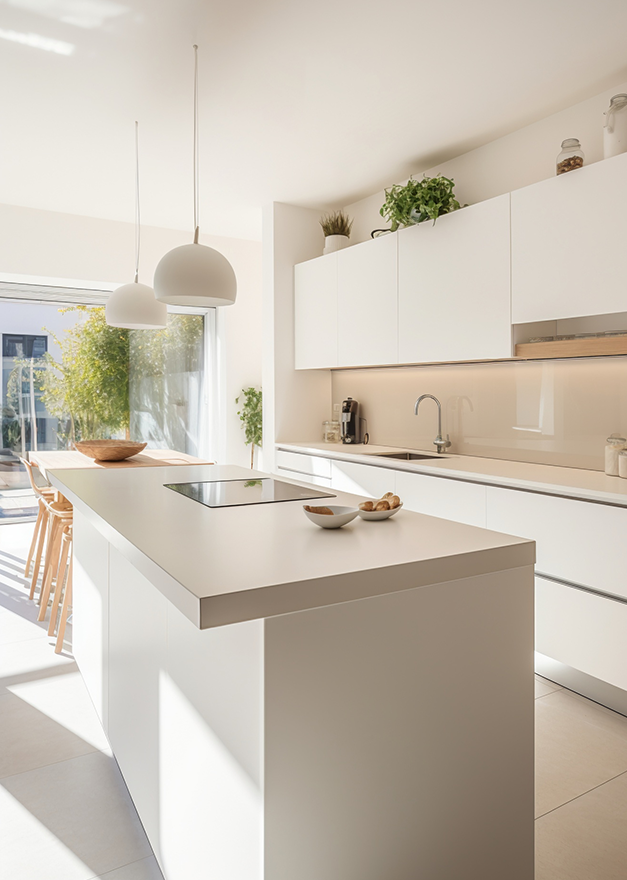 What Does the Process Look Like to Replace
Kitchen Countertops?
Consumers who want to change out their kitchen or bathroom countertops can send a quick sketch—along with the measurements of current countertops—to a professional from Countertops and Cabinetry by Design to receive prompt assistance in choosing a material, as well as to receive an estimate. Speaking with one of our greater Cincinnati professional countertop installers can help you determine the material, style and finish you are looking for. Plus, we have showrooms conveniently located in the greater Cincinnati area so you can visualize the products before you select your final choice.
Once your final decisions are made, a countertop professional from Countertops and Cabinetry by Design will take more precise measurements of your existing countertops and cabinetry, with notations made of sink location, faucets, and electrical outlets. Old countertops might need to be removed at this point to ensure accurate measurements, however, they can be temporarily replaced to cut down on the disarray which often accompanies a countertop replacement. A template will be made so the countertops can be correctly cut to fit the area. Once it is time to install the new countertops, the old countertops will be removed, and plumbing fixtures disconnected.
The new countertop material will be placed directly on your cabinets. With granite, quartz, and other natural stone materials, the weight of the material holds the countertop in place, and silicone is used to seal  it in place along walls. Solid surface countertops are usually screwed to your cabinets, to ensure they do not shift. If there are seams in the new countertop material, a filler or sealant will be applied to the seams, colored to precisely match the counter materials. Finally, the plumbing fixtures will be reconnected, the area cleaned, and any appliances moved back into place.
What Information Should I Have Prior to Talking to a Professional About
Replacing My Countertops?
As noted, you will initially provide the basic dimensions of your kitchen countertop area, then later, your Countertops and Cabinetry by Design installer will more precisely measure the area and create a template. It will help your installer if you ensure your countertops are completely cleared prior to the day of the installation, as well as moving anything which would impede the installer's progress.
How We Can Help?
Replacing the countertops in your kitchen or bathroom can change the entire look of the room, so your choice is of utmost importance. First and foremost, the design team of Countertops and Cabinetry by Design believes in simplicity. Our overarching goal is to ensure your remodel project is simple and completed as quickly as possible. We want to provide education and answers to your questions and will never rush you into a decision because we understand you will live with these decisions day in and day out. Our team are highly experienced professionals who strive to never compromise the end product simply to reduce cost and to complete your job as if the remodel were in our own home. If you are in the greater Cincinnati, Mason, or West Chester area, an experienced professional from Countertops and Cabinetry by Design can meet with you, discuss your project and schedule an installation in a short amount of time.