Getting new cabinets isn't just an opportunity to give your kitchen or bath an updated look—it's also your chance to customize your storage, with space for every last dish or towel. Whether it's kitchen cabinets or bathroom cabinets, laundry room, garage or home office, Countertops and Cabinetry by Design can help with everything from plate racks and kitchen islands to bookcases and vanities. Our experienced design team will facilitate your cabinet project while you choose from products by KraftMaid, Merillat, Smart Cabinetry, StarMark and many more!
What Things Should I Consider Prior to Choosing My
Kitchen Cabinetry?
Changing out your kitchen cabinets can make an amazing difference in the look of your kitchen. Before you make final decisions on which kitchen cabinets to purchase, there are certain things to consider. You will first want to set a budget for your kitchen cabinets. Typically, cabinets account for 40-50% of the total cost of a kitchen remodel; however, kitchen cabinets set the entire tone for your kitchen, playing a huge role in transforming your kitchen space. Although you will want a professional from Countertops and Cabinetry by Design to perform an accurate measurement of the area where your cabinets will be located, informal measurements can be taken to get the process started, giving you a good idea of how much your cabinets will cost.
Stock cabinets are the least expensive option, constructed in standard shapes and sizes, and available in a limited number of woods, colors, and styles. Semi-custom cabinets are factory-built in standard sizes, and generally come with many more options in terms of storage, design, and style. Custom cabinets are constructed for your specific kitchen area, to your exact specifications. With custom cabinets, you have a broader range of styles, finishes, and dimensions. Stock cabinets will bring few options other than your typical cupboards and drawers; however, semi-custom cabinets offer a wide variety of storage solutions, including wine racks, pullout bins, vertical dividers for sheet pans, pullout shelves for pans and perhaps a lazy Susan. You may also be able to add a tall pantry closet when you choose semi-custom cabinets.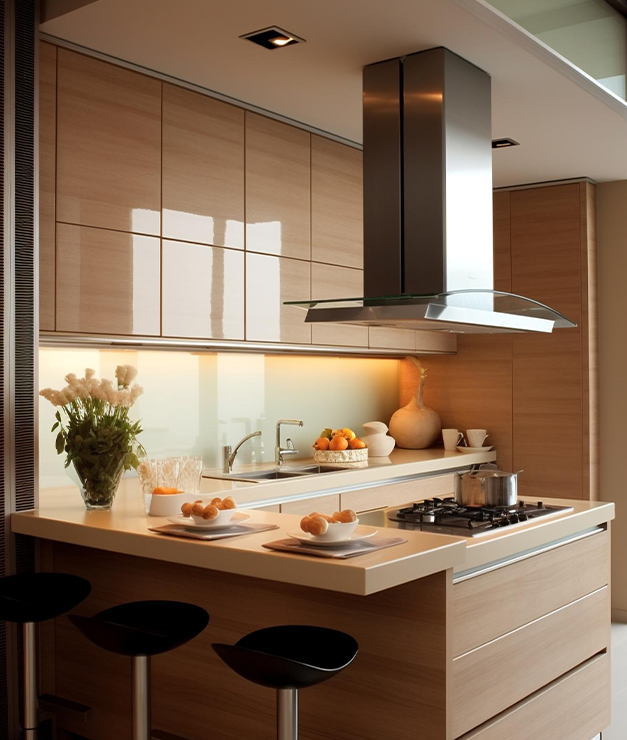 If you aren't planning to stay in your home for any great length of time, you might want to choose standard cabinets in a basic style. If you are designing your dream kitchen for a home you plan to live in for years to come, you should probably opt for top-quality construction and a custom design. When you consider how many times each day the drawers and doors of your cabinets are opened and closed, you will want to make sure they come with reinforced corners, closed backs, solid frames, solid door and drawer fronts, operating quietly and smoothly.
If you're looking for inspiration, you might want to look at several stores, magazines, or online creative sharing sites like Pinterest or Houzz to determine what style of cabinets you prefer. Your goal will be to choose a style which will blend with the overall look of your home; the choices could include whether you want a natural wood finish, a specific color, a certain wood type, or whether you want a painted, stained or laminate finish. When faced with so many important decisions, it can be extremely helpful to have a Cincinnati design professional from Countertops and Cabinetry by Design to guide you through the process of choosing your kitchen cabinets. We not only give you the benefit of our experience, but we also work collaboratively with you to bring your vision to life, scheduling your cabinet install as quickly and simply as possible.
Some things to consider when choosing your new kitchen cabinets include:
Since kitchen cabinets consume such a significant portion of your kitchen remodel budget, they also represent a fairly long-term investment. This means you will want to carefully consider how much you can afford to spend on your cabinets, as well as how to best use that money. In addition to thinking about how long you plan to stay in your home, you should also consider the value of your home in your neighborhood, the age of your children, if any, and whether you have inside pets—all of which can add wear and tear to your kitchen cabinets. Kitchen cabinets can range from $15,000 to $45,000, based on the fact that an average kitchen has about 30 cabinets, including uppers and lowers.
Although your cabinets should last for a minimum of 20-30 years, some people have found that lower quality cabinets may deteriorate much more quickly, resulting in sagging or crooked doors, loose hinges, warping boxes or deteriorating drawers. Look for all-plywood cabinet boxes which are stronger and can handle the weight of a heavy countertop. Particleboard is a less expensive option but is more vulnerable to moisture damage and more likely to crush. The strongest cabinets will use heavy—3/8" or more—full plywood, full-back panels. Lower quality cabinets use thinner panels, picture-frame construction and metal hang brackets and rails. The hinges on your cabinets must be solid quality or your cabinet doors could become loose and uneven, or fail to close properly. By the same token, look for high-quality, heavy-duty drawer glides and hardwood dovetail drawer boxes, rather than staples and notched butt joints.
Stock cabinets come in standard sizes, meaning you might not be able to get the specific cabinets you want to fit your kitchen—although special orders typically only take one to two weeks. Stock cabinets range from six to forty-two inches wide, in 3-inch increments, with an average cost of $75-$400 per linear foot. Semi-custom cabinets range up to 60 inches in width, including pantry units, sliding shelves, and drawer inserts, and take about four to six weeks for a semi-custom order. The average cost of semi-custom cabinets is $150-$900 per linear foot. Finally, custom cabinetry comes in any size you desire—custom cabinets are designed, built and installed to fit your space, whatever that space may be. With custom cabinets, you can choose from exotic woods, period styles, and more ornate details. The average cost of custom cabinets is from $500-$1,400 per linear foot.
There is a truly vast array of kitchen cabinet styles. Some cabinets have classic molding and intricate details, while others may have a black-matte finish or a dark glaze layered with creamy white. Custom and semi-custom cabinets can have wire-mesh door fronts, glass door fronts or beaded-board panels. Tuscan-style kitchen cabinets are "aged" using a distressed glaze finish, with colors like deep reds and walnut browns. Shaker-style cabinets include recessed panels, fluted glass doors, and a vintage flavor. Scandinavian-style cabinets offer a crisp linear design, which is ultra-modern and bright, while antique-furniture-style cabinets bring country charm with mossy greens and woodsy-brown colors, beveled moldings and ledge accents. All-white kitchen cabinets are popular, but to keep them from looking dull and boring, beautiful millwork is added—raised-panel cabinet doors, moldings, and recessed-panel drawers. There are many, many more styles of cabinets to choose from, and you can be sure that we will work with you to help you choose which one is perfect for your kitchen remodel.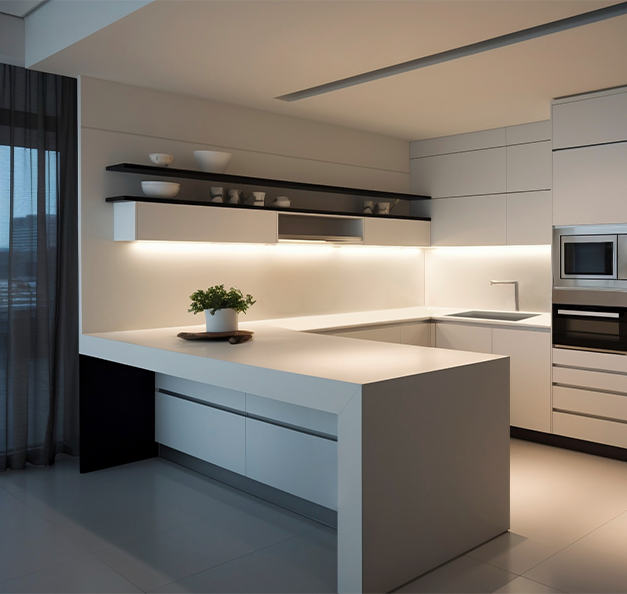 What Does the Process Look Like to Replace My
Kitchen Cabinets?
Replacing kitchen cabinets is a larger task than almost any other kitchen remodel task. Your kitchen cabinet installer will begin by checking the walls and floors in your kitchen for uneven areas, marking any highs or lows. A carpenter's square will be used to check the square of each corner, then the top of the cabinets will be marked by measuring up the wall from the highest point on the floor. All wall studs will be located and marked, and suspension rails installed. Either a corner cabinet or a cabinet which fits against both a back and side wall will be installed first, attached to the suspension rail.
All remaining cabinets will be hung, then adjacent cabinets screwed together. After final adjustments are made, all mounting hardware will be tightened. When the upper cabinets are hung, then the lower cabinets will be installed, using the same basic process. A miter box will be used to cut and install any molding or cornices after filler pieces are caulked. The countertop and sink will be installed, then the shelving, doors, and drawers of the cabinets, and finally, the knobs and handles. After the project has reached your every expectation, we have the area cleaned, pack our tools and materials, and leave you to enjoy your beautiful new kitchen cabinets.
What Information Should I Have with Me Before Talking to a Professional About Remodeling My Kitchen?
Before you contact a cabinet professional from Countertops and Cabinetry by Design you might want to have the approximate dimensions of your kitchen cabinets, as well as a general idea of your budget and the style you are interested in. Our kitchen planner is available to give you an initial idea of what you may be looking for. We will then walk you through the process, step-by-step, ensuring you end up with kitchen cabinets you will enjoy for years and years to come.
The greater Cincinnati professionals at Countertops and Cabinetry by Design never want our clients to "settle." We want you to be totally pleased with the end result of your kitchen cabinet remodel, and we will work hard to develop a relationship with you built on mutual trust. Our overarching goal is to keep your cabinet remodel as simple and painless as possible. We strive to create a more straightforward process, allowing for greater customization and faster turnaround time. If you're considering installing new kitchen countertops, contact our experienced team today to discuss your project and create your vision.